Engineering & Construction
Environment
Telecommunications
Renewable energies
Ventures
Real estate
Explore our business areas
Photo by Luís Pinto, finalist of the Emergentes dst Award 2011.
Respect. (from the lat. respectu) n. 1. respect; 2. consideration; high regard; 3. deference; compliance; veneration; 4. honour; worship; 5. relation; refererence...
We believe that everyone should be respected for their work, for their attitudes, opinions and options.
Photo by Mila Teshaieva, finalist of the Emergentes dst Award 2011.
Rigor. (from the lat. rigore) n. 1. harshness; strength; 2.fig., severity; punctuality; accuracy.
There is no "more or less levelled", "more or less upright", "more or less clean" or "more or less safe", but rather "levelled", "upright", "clean" and "safe". The rigour is reflected in our procedures, in time and in the rules to follow. In the light of moral and principles, being severe means being rigorous.

Photo by , finalist of the Emergentes dst Award 2012.
Passion. (from the lat. passione) n. 1. intense and usually violent feeling (affection, joy, hate, etc.) which hinders the exercise of impartial logic; 2. derived from a feeling; 3. great predilection; 4. partiality; 5. great grief; immense suffering...
Under the sign of passion – a text of the Portuguese poet Regina Guimarães – is our icon. Passion is to reveal great enthusiasm for something, favourable encouragement or opposite to something.
It is the sensibility transmitted by an architect or engineer through work.
Passion is the dedication to a project. Passion is a state of warm soul.
Photo by Jakub Karwowski, finalist of the Emergentes dst Award 2012.
Loyalty. (from the lat. legalitate) n. the quality of being loyal; fidelity; sincerity.
Respect for the principles and rules that guide the honour and probity. Faithfulness to commitments and agreements undertaken, staunch character.
To remain loyal to the business partners because we depend on them and they depend on us.
Being trustworthy for being loyal.
Photo by Ian Lieske, finalist of the Emergentes dst Award 2011.
Solidarity. (from the lat. solidare) n. 1. the quality of being solidary; 2. reciprocal responsibility among the members of a group, namely social, professional, etc.; 3. sense of sharing another's suffering.
Being solidary is being a friend, offering our hand with genuine generosity and bringing joy and human warmth to those who, somehow, are marginalized. Being solidary is being more human. A solidary company is recognized as a fair and non-selfish company. A solidary company is a preferred choice in business. It is a more competitive company. Volunteering is a vehicle to solidarity. It is modern, fair, cultured, friend, it is a noble gesture of moral elevation.
Photo by Clarence Gorton, finalist of the Emergentes dst Award 2012.
Courage. (from the lat. coraticum) n. 1. bravery facing danger; intrepidity; to have audacity; 2. moral force before a suffering or setback; 3. [fig.] to input energy when performing a difficult task; perseverance...
Courage is essential in our life. Courage to face less pleasant situations when complex issues come up, not expecting random resolutions.
It is a value that we must highlight as opposed to the fearful, cowardly and laziness.
The courage to react to criticism not with an attitude of demotivation or sadness, but rather to search for the means and the action to overcome its own reason. This kind of courage, which is also an intellectual courage, is highly recommended.
Photo by Filipa Alves, finalist of the Emergentes dst Award 2011.
Ambition. (from the lat. ambitione) n. 1. vehement desire of wealth, honours or glories; 2. expectation about the future; aspiration; 3. lust; greed…
Vehement desire to achieve a particular goal. Ambition not to resign ourselves. Ambition to take the best potential from ourselves. Ambition to deserve ourselves. Ambition to be athletes in our top-level competitive jobs. Ambition to beat our brands. Ambition to get the best deals with the maximum value, due to the high levels of proficiency and efficiency.
Photo by Scarlett Coten, finalist of the Emergentes dst Award 2011.
Esthetics. ESTHETICS (from the Greek aisthetiké, "sensitive") n.f. 1. Philosophy branch of philosophy that studies the beauty and nature of artistic phenomena; 2. author's own style, time, etc.; 3. harmony of shapes and colors, beauty; 4. set of techniques and treatments that aim to beautify the body.
We decided to build the company's economic foundations under a cultured, cosmopolitan and cool image. Because it is a charming state of being. Good taste because we are sustainable and we respect the planet. Good taste because we are sensitive. Good taste just because.
Photo by Karl Erik Brondbo, finalist of the Emergentes dst Award 2011.
Responsibility. (from the lat respondere) n. the trait of being answerable to someone for something or being responsible for one's conduct; a form of trustworthiness.
We must be certain that, before a choice, we chose what is best for both of us and not just the best for each one. Each employee is responsible for his negotiated activity and co-responsible if the co-worker does not fulfil his own task, thus preventing the common goal. A team is a set of individuals - is a whole. In the business game, as in social or family contexts, everyone must comply with their own relative position and we shall not permit that one of ours fails to be in our team.
News
Press Room
Catholic University gives Philosophy course to construction company to increase competitiveness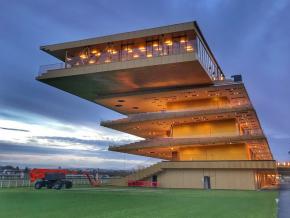 29/09/2020
Catholic University gives Philosophy course to construction company to increase competitiveness
Expresso
Classics by Descartes, Plato, Aristotle, among others, will be taught to 350 employees of the DST, one of the largest building groups based in the north. The course is mandatory and will last two years.
These are seemingly separate universes that intersect in pandemic times. The DST Group - which brings together a group of several companies related to construction - started a Philosophical Training course, taught by the Catholic University of Braga, with its workers. The initiative is aimed at 350 senior staff and will last for two academic years.
"We are betting on qualifying the skills of our people, through an approach that contributes to a better understanding of the changes and transformations that we live in our time, providing them with tools that stimulate reflection on complex themes, an aspect that is highly valued in this increasingly competitive market, "said José Teixeira, chairman of the dstgroup's Board of Directors, in a statement.
With one class per week, training is mandatory and lasts a total of 70 hours. "It will be a journey through the most representative authors and philosophers in the History of Philosophy, a journey from Heraclitus to Sartre with stations in over 30 philosophers including Parmenides of Elea, Plato, Aristotle, Marcus Aurelius, Saint Augustine, Descartes, Rousseau, Marx, Nietsche and Popper ", says the group's statement.
The idea for the training came from José Teixeira himself, who launched the challenge to the oldest philosophical school in the region, the Philosophy Faculty of the Catholic University of Braga. "The hope for the project is great, on the academy and company side. New alliances will certainly emerge, which may be a sign of a world somewhat different from the one we are used to, "said João Manuel Duque, president of the Catholic University, in Braga. "The labour dimension also needs to rediscover the philosophical tradition, which can only be beneficial in the development of its staff and in improving its own industrial relations".
"AN UNPRECEDENTED BOLDNESS"
For the chairman of the group's Board of Directors, the initiative is "a stroke of genius in terms of qualification" of human resources. "This training will allow us to build a floor to escape the foam of days, emptiness, the ephemeral and ugliness and because this is the shortest way to increase our competitiveness", he concluded. Considering "an unprecedented boldness for the academy and business environment", José Manuel Lopes, director of the Faculty of Philosophy, believes that the initiative is "full of potential".
"Philosophy has not earned, on the part of the various organizations, companies and institutions, the welcome that should be given to it. The Company can have more quality in its being and doing, be more responsible and contribute to a more sustainable and beautiful world, if it has employees and decision makers who train reflection, thinking and action in a more systematic and more grounded way, more critical, more demanding. "
Born in the 1940s, dstgroup develops its main activity in the field of engineering and construction, the sector that gave rise to it and in which it is one of the national reference groups. It has close to 1800 employees and extensive work throughout the country and abroad. This year, the company closed the deal for the construction of Epic Sana Marquês - for € 10 million - in a work of conversion of the old Sana, which involves three companies of the dstgroup: Dst sa, - construction company, dte - special installations - and bysteel fs, a company specialized in the design, engineering and execution of facades and architectural envelopes for buildings. It also signed the construction of another hotel unit of the "The Beautique Hotels" Group in Lisbon, on the block of Avenida Almirante Reis and Rua Maria Andrade, in a € 5.4 million project.
The group is also closely linked to patronage and support for culture. During the pandemic, for example, in addition to other ongoing social support, it was insured the salaries of the 14 workers of the Theater Company of Braga for three months, outside of the multi-annual subsidy and support that has been provided for almost 40 years. In a solidarity initiative, it offered 50 computers and internet service to underprivileged students of the Sá de Miranda School Group.
The company was also awarded this year for the construction of the Longchamp Paris Racecourse. It won two categories at the European Steel Design Awards, the most important competition in the steel sector that rewards developers, architects and builders, responsible for the construction of the most emblematic metallic structure works across Europe. The project, with the intervention of bysteel, a dstgroup company, won the awards "Mérito 2019"  and also the "Público".