Engineering & Construction
Environment
Telecommunications
Renewable energies
Ventures
Real estate
Explore our business areas
Photo by Luís Pinto, finalist of the Emergentes dst Award 2011.
Respect. (from the lat. respectu) n. 1. respect; 2. consideration; high regard; 3. deference; compliance; veneration; 4. honour; worship; 5. relation; refererence...
We believe that everyone should be respected for their work, for their attitudes, opinions and options.
Photo by Mila Teshaieva, finalist of the Emergentes dst Award 2011.
Rigor. (from the lat. rigore) n. 1. harshness; strength; 2.fig., severity; punctuality; accuracy.
There is no "more or less levelled", "more or less upright", "more or less clean" or "more or less safe", but rather "levelled", "upright", "clean" and "safe". The rigour is reflected in our procedures, in time and in the rules to follow. In the light of moral and principles, being severe means being rigorous.

Photo by , finalist of the Emergentes dst Award 2012.
Passion. (from the lat. passione) n. 1. intense and usually violent feeling (affection, joy, hate, etc.) which hinders the exercise of impartial logic; 2. derived from a feeling; 3. great predilection; 4. partiality; 5. great grief; immense suffering...
Under the sign of passion – a text of the Portuguese poet Regina Guimarães – is our icon. Passion is to reveal great enthusiasm for something, favourable encouragement or opposite to something.
It is the sensibility transmitted by an architect or engineer through work.
Passion is the dedication to a project. Passion is a state of warm soul.
Photo by Jakub Karwowski, finalist of the Emergentes dst Award 2012.
Loyalty. (from the lat. legalitate) n. the quality of being loyal; fidelity; sincerity.
Respect for the principles and rules that guide the honour and probity. Faithfulness to commitments and agreements undertaken, staunch character.
To remain loyal to the business partners because we depend on them and they depend on us.
Being trustworthy for being loyal.
Photo by Ian Lieske, finalist of the Emergentes dst Award 2011.
Solidarity. (from the lat. solidare) n. 1. the quality of being solidary; 2. reciprocal responsibility among the members of a group, namely social, professional, etc.; 3. sense of sharing another's suffering.
Being solidary is being a friend, offering our hand with genuine generosity and bringing joy and human warmth to those who, somehow, are marginalized. Being solidary is being more human. A solidary company is recognized as a fair and non-selfish company. A solidary company is a preferred choice in business. It is a more competitive company. Volunteering is a vehicle to solidarity. It is modern, fair, cultured, friend, it is a noble gesture of moral elevation.
Photo by Clarence Gorton, finalist of the Emergentes dst Award 2012.
Courage. (from the lat. coraticum) n. 1. bravery facing danger; intrepidity; to have audacity; 2. moral force before a suffering or setback; 3. [fig.] to input energy when performing a difficult task; perseverance...
Courage is essential in our life. Courage to face less pleasant situations when complex issues come up, not expecting random resolutions.
It is a value that we must highlight as opposed to the fearful, cowardly and laziness.
The courage to react to criticism not with an attitude of demotivation or sadness, but rather to search for the means and the action to overcome its own reason. This kind of courage, which is also an intellectual courage, is highly recommended.
Photo by Filipa Alves, finalist of the Emergentes dst Award 2011.
Ambition. (from the lat. ambitione) n. 1. vehement desire of wealth, honours or glories; 2. expectation about the future; aspiration; 3. lust; greed…
Vehement desire to achieve a particular goal. Ambition not to resign ourselves. Ambition to take the best potential from ourselves. Ambition to deserve ourselves. Ambition to be athletes in our top-level competitive jobs. Ambition to beat our brands. Ambition to get the best deals with the maximum value, due to the high levels of proficiency and efficiency.
Photo by Scarlett Coten, finalist of the Emergentes dst Award 2011.
Esthetics. ESTHETICS (from the Greek aisthetiké, "sensitive") n.f. 1. Philosophy branch of philosophy that studies the beauty and nature of artistic phenomena; 2. author's own style, time, etc.; 3. harmony of shapes and colors, beauty; 4. set of techniques and treatments that aim to beautify the body.
We decided to build the company's economic foundations under a cultured, cosmopolitan and cool image. Because it is a charming state of being. Good taste because we are sustainable and we respect the planet. Good taste because we are sensitive. Good taste just because.
Photo by Karl Erik Brondbo, finalist of the Emergentes dst Award 2011.
Responsibility. (from the lat respondere) n. the trait of being answerable to someone for something or being responsible for one's conduct; a form of trustworthiness.
We must be certain that, before a choice, we chose what is best for both of us and not just the best for each one. Each employee is responsible for his negotiated activity and co-responsible if the co-worker does not fulfil his own task, thus preventing the common goal. A team is a set of individuals - is a whole. In the business game, as in social or family contexts, everyone must comply with their own relative position and we shall not permit that one of ours fails to be in our team.
News
Press Room
Construction of 'haute couture'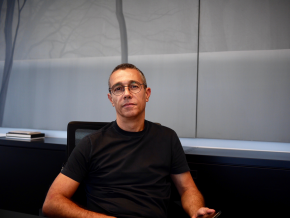 07/12/2022
Construction of 'haute couture'
Negócios 
Bysteel Construções, in steel superstructures, and Bysteel fs, in façade systems and architectural envelopes, is based on engineering and its main markets are France, the Netherlands, Monaco and the UK.
We build the body of the models in steel, which are the buildings, and then we clad them with haute couture dresses that architects such as Richard Rogers, Jacques Ferrier or Dominique Perrault design, and then we materialise and install them around these models that we make in steel", this is how administrator Rodrigo Araújo defines the activities of Bysteel and Bysteel fs, of the dst group. 
This group created a metalworking department in 2005 which was emancipated in a spin-off operation in 2008, resulting in Bysteel Construções. As Rodrigo Araújo states, the market became "open and competitive" but faced "unfavourable market environments with the financial crisis in 2008 and the one that followed in 2011 with Portugal resorting to troika loans". 
This context led Bysteel to look at the international market. "We took a first step into Angola in 2009, but we soon realised the need for a risk dispersion strategy and started looking at central Europe. In 2012 we entered France, then, in 2014, the United Kingdom, in 2018, Holland, in 2021, Monaco," explains Rodrigo Araújo. Bysteel fs was born at the beginning of 2016 and along the way they created teams. Today the two companies have around 400 employees.
Bysteel Construções, in steel superstructures, and Bysteel fs, in façade systems and architectural envelopes, is based on engineering, "We work on a design and build basis, we have a large design team, especially for façades, and then we execute works such as the towers at La Defere in Paris, a hotel at King's Cross in London, a new terminal at Schiphol airport in Amsterdam or the new buildings that are growing in the front line in Monaco," said Rodrigo Araújo.
The main body is the dst group
The restlessness and innovative spirit mark these companies, which according to Rodrigo Araújo has allowed them to break new ground in new areas such as modular construction and prefabrication, in a programme that led to a relationship with the architect Norman Foster and the British Arup. "We want to democratise access to art and architecture and this is going to be one of the paths of Bysteel and the dst group itself," says Bysteel's executive director.
Recently the company added another flagship project to its order book. It was selected to make the metal structure designed to contain a 12-metre-high cube with the capacity to store 730 tonnes of liquid argon for Darkside-20k, CERN's next structure to detect dark matter.
The main body of Bysteel Construções and Bysteel fs is the dst group, which has its origins in the 1940s when Domingos Silva Teixeira launched himself into the aggregates business, but it was only in 1984 that the company Domingos Silva Teixeira & Filhos was set up, which then bought a quarry and launched itself into the bituminous mixtures business. The great development of its core business of engineering & construction has allowed the group, over time, to broaden its scope of intervention, through its subsidiaries, to areas such as the environment, renewable energies, telecommunications, real estate and venture capital.
For Rodrigo Araújo, "the dst group is an ecosystem which today reveals itself as an example for the country, in the sense that it competes in sophisticated markets in the centre of Europe and sometimes even more artfully than the European market players themselves".
In his opinion, it means that "the country is producing more and more competent people, and that Portuguese companies are proving to be more competent to compete at a level that is not only the logistical challenge of emerging markets but also the engineering challenge. We have gone from the red muscle of the arm to the whiter muscle of the brain".