Engineering & Construction
Environment
Telecommunications
Renewable energies
Ventures
Real estate
Explore our business areas
Photo by Luís Pinto, finalist of the Emergentes dst Award 2011.
Respect. (from the lat. respectu) n. 1. respect; 2. consideration; high regard; 3. deference; compliance; veneration; 4. honour; worship; 5. relation; refererence...
We believe that everyone should be respected for their work, for their attitudes, opinions and options.
Photo by Mila Teshaieva, finalist of the Emergentes dst Award 2011.
Rigor. (from the lat. rigore) n. 1. harshness; strength; 2.fig., severity; punctuality; accuracy.
There is no "more or less levelled", "more or less upright", "more or less clean" or "more or less safe", but rather "levelled", "upright", "clean" and "safe". The rigour is reflected in our procedures, in time and in the rules to follow. In the light of moral and principles, being severe means being rigorous.

Photo by , finalist of the Emergentes dst Award 2012.
Passion. (from the lat. passione) n. 1. intense and usually violent feeling (affection, joy, hate, etc.) which hinders the exercise of impartial logic; 2. derived from a feeling; 3. great predilection; 4. partiality; 5. great grief; immense suffering...
Under the sign of passion – a text of the Portuguese poet Regina Guimarães – is our icon. Passion is to reveal great enthusiasm for something, favourable encouragement or opposite to something.
It is the sensibility transmitted by an architect or engineer through work.
Passion is the dedication to a project. Passion is a state of warm soul.
Photo by Jakub Karwowski, finalist of the Emergentes dst Award 2012.
Loyalty. (from the lat. legalitate) n. the quality of being loyal; fidelity; sincerity.
Respect for the principles and rules that guide the honour and probity. Faithfulness to commitments and agreements undertaken, staunch character.
To remain loyal to the business partners because we depend on them and they depend on us.
Being trustworthy for being loyal.
Photo by Ian Lieske, finalist of the Emergentes dst Award 2011.
Solidarity. (from the lat. solidare) n. 1. the quality of being solidary; 2. reciprocal responsibility among the members of a group, namely social, professional, etc.; 3. sense of sharing another's suffering.
Being solidary is being a friend, offering our hand with genuine generosity and bringing joy and human warmth to those who, somehow, are marginalized. Being solidary is being more human. A solidary company is recognized as a fair and non-selfish company. A solidary company is a preferred choice in business. It is a more competitive company. Volunteering is a vehicle to solidarity. It is modern, fair, cultured, friend, it is a noble gesture of moral elevation.
Photo by Clarence Gorton, finalist of the Emergentes dst Award 2012.
Courage. (from the lat. coraticum) n. 1. bravery facing danger; intrepidity; to have audacity; 2. moral force before a suffering or setback; 3. [fig.] to input energy when performing a difficult task; perseverance...
Courage is essential in our life. Courage to face less pleasant situations when complex issues come up, not expecting random resolutions.
It is a value that we must highlight as opposed to the fearful, cowardly and laziness.
The courage to react to criticism not with an attitude of demotivation or sadness, but rather to search for the means and the action to overcome its own reason. This kind of courage, which is also an intellectual courage, is highly recommended.
Photo by Filipa Alves, finalist of the Emergentes dst Award 2011.
Ambition. (from the lat. ambitione) n. 1. vehement desire of wealth, honours or glories; 2. expectation about the future; aspiration; 3. lust; greed…
Vehement desire to achieve a particular goal. Ambition not to resign ourselves. Ambition to take the best potential from ourselves. Ambition to deserve ourselves. Ambition to be athletes in our top-level competitive jobs. Ambition to beat our brands. Ambition to get the best deals with the maximum value, due to the high levels of proficiency and efficiency.
Photo by Scarlett Coten, finalist of the Emergentes dst Award 2011.
Esthetics. ESTHETICS (from the Greek aisthetiké, "sensitive") n.f. 1. Philosophy branch of philosophy that studies the beauty and nature of artistic phenomena; 2. author's own style, time, etc.; 3. harmony of shapes and colors, beauty; 4. set of techniques and treatments that aim to beautify the body.
We decided to build the company's economic foundations under a cultured, cosmopolitan and cool image. Because it is a charming state of being. Good taste because we are sustainable and we respect the planet. Good taste because we are sensitive. Good taste just because.
Photo by Karl Erik Brondbo, finalist of the Emergentes dst Award 2011.
Responsibility. (from the lat respondere) n. the trait of being answerable to someone for something or being responsible for one's conduct; a form of trustworthiness.
We must be certain that, before a choice, we chose what is best for both of us and not just the best for each one. Each employee is responsible for his negotiated activity and co-responsible if the co-worker does not fulfil his own task, thus preventing the common goal. A team is a set of individuals - is a whole. In the business game, as in social or family contexts, everyone must comply with their own relative position and we shall not permit that one of ours fails to be in our team.
news
Press Room
DST and Norman Foster create cluster in Braga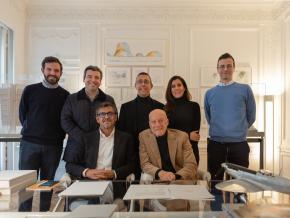 22/04/2022
DST and Norman Foster create cluster in Braga
Expresso
Modular construction | €215 million project bets on linking scientific research, design and the production of buildings
Creating a kind of Autoeuropa for the construction of modular housing is the basic idea of a project that is being born in Braga. "There is an investment of €215 million, 48 entities involved, including companies and universities, 800 jobs, 15% of which will be PhDs, and an export target of 70% of production", summarises José Teixeira, president of the engineering and construction group DST, which is leading the project. To move away from the idea of containerisation and that it is possible to introduce design into modular construction, DST has created a partnership with the English architect Norman Foster, who will design the "laboratory" with four thousand square metres of construction and 100 habitable modules that will be the centre of this business ecosystem (cluster).
"We believe there is an opportunity to include design in modular construction and demonstrate that this type of construction can be an assembly line like that of cars, where there are different models," adds the president of the group that has just bought 71.3% of Efacec.
The "models" will be traditional housing, student and senior residences, hotels and hospitality units. José Teixeira adds that the Norman Foster Foundation team - led by the architect himself - will assume the position of research consultant and design leader. And it will work together with other entities, in a multidisciplinary team, which will develop the conceptual design of the construction systems and modular and prefabrication solutions.
Construction is thus done in the factory in a faster and more controlled way, with lower costs for the environment and also for people. "The aim is to manufacture houses in a way in which ecological processes dominate, with reduced energy and resource use, by taking advantage of and recycling materials," explains. For example, he says that walls resulting from a demolition process can be transformed into a new concrete aggregate, the same with window frames and wood. And as modular construction will have to be neutral in terms of CO2 emissions, José Teixeira highlights the focus on the use of the internet of things, with the use of light, acoustic, thermal and security sensors, which control the energy consumed by a house.
Research and development with €95 million
"The project applied for the Recovery and Resilience Plan (RRP) funds last week, brings together 48 partners, of which 32 are companies from various areas, from wood to concretes, joinery, robotics, coatings, textiles, transport, software and digitalisation, among others," he adds. A group that, for example, includes Cimpor, TMG - Têxteis, the Amorim group, Rangel Transitários and Valadares, among others. The remaining 16 members are universities, such as those of Porto, Braga, Nova de Lisboa, IST, LNEC and several applied research centres in areas ranging from nanotechnologies to polymers and composite materials.
Productive investment in industrial machinery and equipment is around €115.5 million. The share of research and development (R&D) represents an investment of around €95 million. "Of the €88.26 million investment allocated to the six companies in the DST, investment in the plant is around €58.4 million and €23.9 million in R&D," he said.
As for the expected timings of execution, the entire project will have to be concluded by 2026 in order to be eligible for co-financing from the RRP funds. "The main problem may be licensing. This year the design work and the project will be carried out by the Norman Foster Foundation, and the physical construction will take place at the end of 2023," he adds.
Ricardo Rio, president of the Municipality of Braga, is pleased with the project, which will place "the city in the national and even international leadership" of one of the great challenges of the moment, which is sustainable construction. Whether in the development of the project, the materials used or the formulation of the construction processes, Braga is already being a leading edge in innovation", he says, referring also to the Casais group. As for licensing, he stressed that the city already has a "green light" for licensing and that the urban planning team is being strengthened.
New Bauhaus
José Teixeira points out that the modular construction cluster project is also inspired by the New European Bauhaus concept, the challenge launched by the President of the European Commission, Ursula von der Leyen, which aims to adapt the creativity of the German movement from the 1930s to the present day. "The whole project implies contemporary design for the building, with aesthetics allied to science and sustainability," he points out. It defines that the execution of the project is based on a coordinated strategy, organised into six business projects: design, materials, equipment, systems, training and coordination. "All of which are critical to the achievement of the goals we set ourselves." 
The use of partnerships between DST and renowned architects does not end with Norman Foster. The company has a partnership with Roman Rodger - the recently deceased co-author of the Pompidou Centre with Renzo Piano - for metal window frames. It has also been betting on prefabricated and modular solutions - it is building a Berkeley Hotel in London and presented the first module at the Shanghai Expo in 2020.
From concrete to nanotechnology
For José Teixeira, president of the DST group, multidisciplinarity is one of the project's great assets. The construction solutions that will be developed will use a mix of materials - concrete, steel, wood, and recycled products. Skills that exist in partners such as Cimpor - which will develop an ecological concrete - Vigobloco or Ecosteel. In research, besides the ones mentioned in the text besides, there is the International Iberian Nanotechnology Laboratory or the Dtx, a Digital Transformation co-lab that brings together three universities (Católica, Évora and Minho).
Numbers
15%
of the 800 jobs to be created in Braga's entrepreneurial ecosystem should be of PhD holders
€115,5
millions of productive investment and €95 million in research and development are the expected amounts of investment
4000
square metres of construction, all modular and demountable, is the planned area of the "laboratory" designed by Norman Foster, whose construction will start at the end of 2023
70%
of the cluster's production of prefabricated modules and solutions is exported.