Engineering & Construction
Environment
Telecommunications
Renewable energies
Ventures
Real estate
Explore our business areas
Photo by Luís Pinto, finalist of the Emergentes dst Award 2011.
Respect. (from the lat. respectu) n. 1. respect; 2. consideration; high regard; 3. deference; compliance; veneration; 4. honour; worship; 5. relation; refererence...
We believe that everyone should be respected for their work, for their attitudes, opinions and options.
Photo by Mila Teshaieva, finalist of the Emergentes dst Award 2011.
Rigor. (from the lat. rigore) n. 1. harshness; strength; 2.fig., severity; punctuality; accuracy.
There is no "more or less levelled", "more or less upright", "more or less clean" or "more or less safe", but rather "levelled", "upright", "clean" and "safe". The rigour is reflected in our procedures, in time and in the rules to follow. In the light of moral and principles, being severe means being rigorous.

Photo by , finalist of the Emergentes dst Award 2012.
Passion. (from the lat. passione) n. 1. intense and usually violent feeling (affection, joy, hate, etc.) which hinders the exercise of impartial logic; 2. derived from a feeling; 3. great predilection; 4. partiality; 5. great grief; immense suffering...
Under the sign of passion – a text of the Portuguese poet Regina Guimarães – is our icon. Passion is to reveal great enthusiasm for something, favourable encouragement or opposite to something.
It is the sensibility transmitted by an architect or engineer through work.
Passion is the dedication to a project. Passion is a state of warm soul.
Photo by Jakub Karwowski, finalist of the Emergentes dst Award 2012.
Loyalty. (from the lat. legalitate) n. the quality of being loyal; fidelity; sincerity.
Respect for the principles and rules that guide the honour and probity. Faithfulness to commitments and agreements undertaken, staunch character.
To remain loyal to the business partners because we depend on them and they depend on us.
Being trustworthy for being loyal.
Photo by Ian Lieske, finalist of the Emergentes dst Award 2011.
Solidarity. (from the lat. solidare) n. 1. the quality of being solidary; 2. reciprocal responsibility among the members of a group, namely social, professional, etc.; 3. sense of sharing another's suffering.
Being solidary is being a friend, offering our hand with genuine generosity and bringing joy and human warmth to those who, somehow, are marginalized. Being solidary is being more human. A solidary company is recognized as a fair and non-selfish company. A solidary company is a preferred choice in business. It is a more competitive company. Volunteering is a vehicle to solidarity. It is modern, fair, cultured, friend, it is a noble gesture of moral elevation.
Photo by Clarence Gorton, finalist of the Emergentes dst Award 2012.
Courage. (from the lat. coraticum) n. 1. bravery facing danger; intrepidity; to have audacity; 2. moral force before a suffering or setback; 3. [fig.] to input energy when performing a difficult task; perseverance...
Courage is essential in our life. Courage to face less pleasant situations when complex issues come up, not expecting random resolutions.
It is a value that we must highlight as opposed to the fearful, cowardly and laziness.
The courage to react to criticism not with an attitude of demotivation or sadness, but rather to search for the means and the action to overcome its own reason. This kind of courage, which is also an intellectual courage, is highly recommended.
Photo by Filipa Alves, finalist of the Emergentes dst Award 2011.
Ambition. (from the lat. ambitione) n. 1. vehement desire of wealth, honours or glories; 2. expectation about the future; aspiration; 3. lust; greed…
Vehement desire to achieve a particular goal. Ambition not to resign ourselves. Ambition to take the best potential from ourselves. Ambition to deserve ourselves. Ambition to be athletes in our top-level competitive jobs. Ambition to beat our brands. Ambition to get the best deals with the maximum value, due to the high levels of proficiency and efficiency.
Photo by Scarlett Coten, finalist of the Emergentes dst Award 2011.
Good Taste. (from the lat. gustu) n. 1. ability to appreciate aesthetic value or standards of something; 2. elegance, refinement, aesthetic sense; 5. particular touch given by an artist to his works.
We decided to build the company's economic foundations under a cultured, cosmopolitan and cool image. Because it is a charming state of being. Good taste because we are sustainable and we respect the planet. Good taste because we are sensitive. Good taste just because.
Photo by Karl Erik Brondbo, finalist of the Emergentes dst Award 2011.
Responsibility. (from the lat respondere) n. the trait of being answerable to someone for something or being responsible for one's conduct; a form of trustworthiness.
We must be certain that, before a choice, we chose what is best for both of us and not just the best for each one. Each employee is responsible for his negotiated activity and co-responsible if the co-worker does not fulfil his own task, thus preventing the common goal. A team is a set of individuals - is a whole. In the business game, as in social or family contexts, everyone must comply with their own relative position and we shall not permit that one of ours fails to be in our team.
News
Press Room
Social Responsibility: examples near us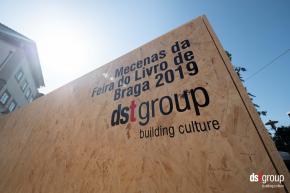 11/07/2019
Social Responsibility: examples near us
REVISTA MINHA 
Consumers are increasingly concerned about corporate social responsibility and favour those that, day-to-day, evidence social and environmental concern. In Portugal there are more and more organizations spending part of their time (and profit) doing good. Today we present (and congratulate!) four of them, good examples to follow.
DELTA CAFÉS
The brand that has grown with us has been repeatedly noted for its environmental responsibility and constant sponsorship of institutions in various areas. The brand has the Delta Saúde project, in partnership with the Egas Moniz Center for Medical Genetics and Pediatric Nutrition, with actions to raise awareness and prevent cardiovascular disease, aimed at the company's employees and residents of Campo Maior, where the company is located. In addition, it has a protocol with the Lisbon Prison: a workshop for the repair of coffee machines, mills and dishwashers for catering, receives and provides training for prisoners, promoting their reintegration into the labour market.
SUPER BOCK
Next time you drink an ice-cold Super Bock, remember that Super Bock Group's corporate culture sees volunteering as a core value. The brand advanced with a Volunteer Program that, among other achievements, was able to form an internal group of volunteers that involved more than 530 employees in over 2700 volunteer hours. The company also has the Go On Communities project, which promotes school success and has made many high school students think "out of the box". Super Bock pioneered the promotion of creative industries in Portugal and has since 2008 been changing the lives of young entrepreneurs through the Super Bock/Serralves National Creative Industries Award.
EDP
Another brand that has grown with us and has been proving themselves in the world of social responsibility is EDP. The "Generation Orchestra" is one of EDP's solidarity projects and promotes social inclusion that brings together, in their taste for music, children from disadvantaged social sectors, working on values ​​such as punctuality, attendance and responsibility. "For you if you aren't absent" aims to prevent school absenteeism and improve the performance of many at-risk children and young people from 6 to 16 years of age. EDP ​​is also responsible for door-to-door distribution of energy saving bulbs in the areas covered by dam construction and power output increases since 2009.
DST GROUP
Dst Group is very serious about social responsibility policies that cover areas as diverse as culture, education, health, safety, the environment and knowledge. Employees are entitled to totally free life insurance and health insurance and are encouraged to play sports, either on company premises - which has facilities for the purpose - or in gyms, through protocols that allow discounts or free attendance for its employees. Enjoying a social vegetable garden on company premises is another employee right. The Group is well known for its Patronage, intensively promoting and disseminating Culture and Education. Amongst other actions, Dst Group is the main sponsor of the Braga Theatre Company and the City Book Fair, awarding annually the Dst Grand Prize for Literature.